Fender Player Plus electric guitars & basses… Now available at Gold Coast Music
By: Gold Coast Music On: 20 September 2021

Fender's new line of guitars and basses for 2021 – Player Plus – are now in store at Gold Coast Music.
If you've been dreaming of an updated version of one of Fender's most iconic models – The Strat, Tele, P-Bass and Jazz Bass – with the latest, advanced technology for ultimate tone and playability, look no further. Fender's 2021 Player Plus range of electric guitars and basses has landed at Gold Coast Music.
The Player Plus range updates Fender's most iconic models – the Strat, Tele, P Bass and Jazz Bass – with a bunch of advanced new features including:
Noiseless Pickups, which give you a bright and touch-sensitive tone without the hum

silky satin C-necks with smooth, rolled edges

locking tuners, for rock-solid tuning and quick and easy string changes

electric new colour finishes including striking gradients of blue, silver smoke and tequila sunrise.
The Player Plus Stratocaster comes with new pickup combinations: Push-pull pots and a two-position switch give you two alternative tones you wouldn't usually find on a Strat.
We have the Strat in classic Sunburst, the beautifully vintage-styled Olympic Pearl (pearly cream coloured body with tortoiseshell pickguard, synthetic bone string nuts and black opaloid dots), stunning Tequila Sunrise or the gorgeous blue and white Opal Spark.
The Strat HSS has a powerful hum bucking pickup added to the bridge as well, for nice warmth and a bit more strength with a crystalline single-coil sound or a fat double-coil tone. We've got the Strat HSS in store in Cosmic Jade green.
The Player Plus Tele has a series/parallel circuit added for hotter output and a fatter tone, while still retaining all the rugged vibe of the classic Tele.
We have the Tele in Butterscotch Blonde, classic Sunburst or Silver Smoke, with a gradient finish from black to white.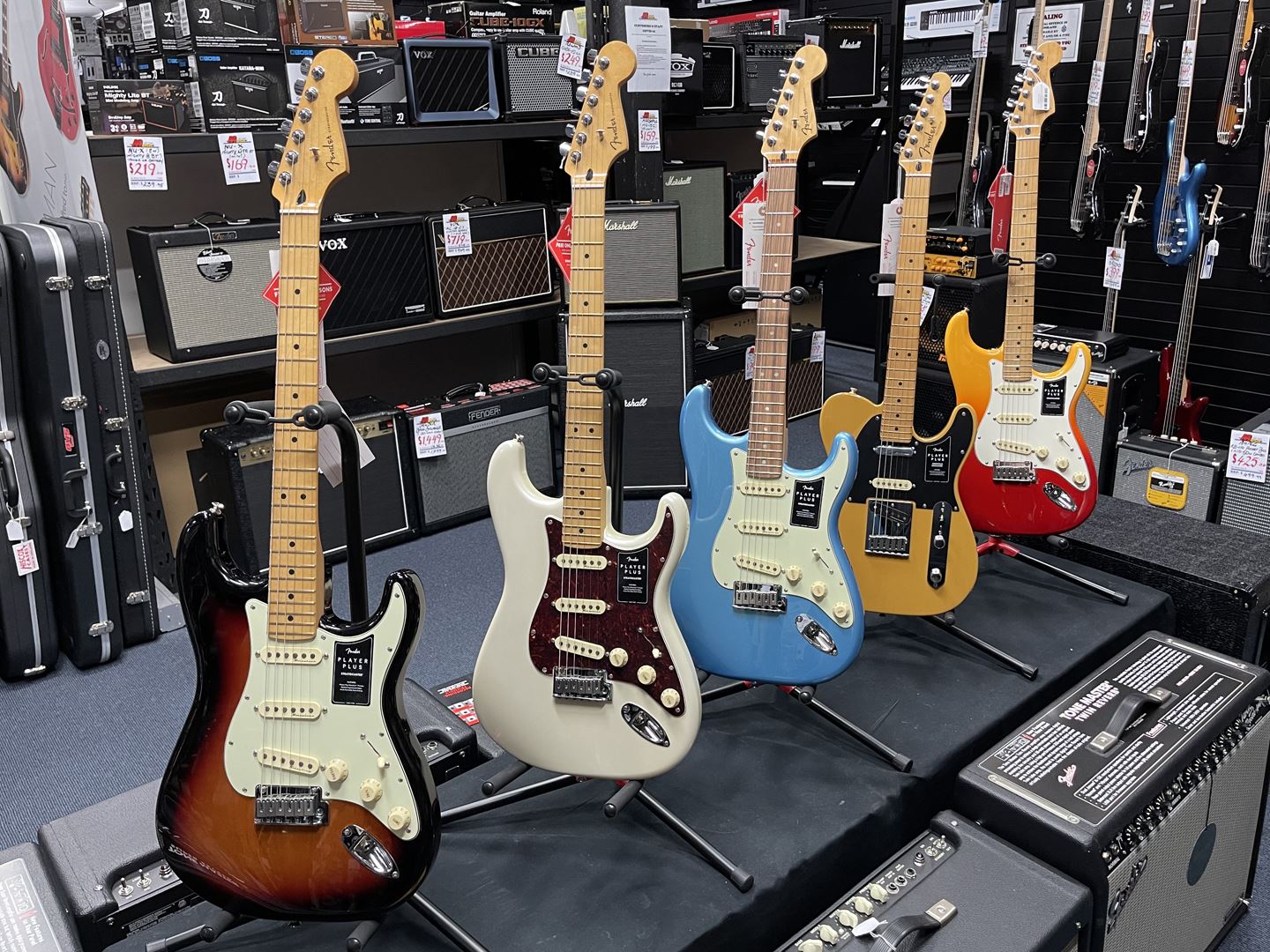 The Player Plus bass guitars have a bunch of advanced features as well – 3-band active EQ for precise tone shaping, with the flexibility of switching between active and passive; sleek, fast, and smooth neck; and a rock solid HiMass bridge for excellent sustain, resonance, and perfect intonation.
We have the Precision Bass in stock at Gold Coast Music in the Olympic Pearl finish, and the Jazz Bass in Aged Candy Apple Red.
Check 'em out!
---
Leave a comment