Guild Guitars... Now available at Gold Coast Music
By: Gold Coast Music On: 9 March 2022

We're very proud to announce we're now stocking the iconic American guitar brand revered by so many of the world's greatest artists, Guild Guitars.

Stewy at Gold Coast Music store playing the newly released Guild Guitars A-20 Marley. Image: Malina Hamilton-Smith
We have a wide range of Guild Guitars at Gold Coast Music store, including:
For a bit of background, Guild was founded in 1952 in New York City. Guild started out producing hollow body electric guitars for the players of the New York 1950s jazz scene, adding other models as music tastes and styles progressed over the years, often innovating to meet the needs of top players.
Buddy Guy wailing on a Guild Starfire at the Nice Jazz Festival in 1978. Image: David Redfern
For 70 years, Guild have consistently produced guitars that have been the guitar of choice for pro musicians. You'll often see a Guild guitar in the hands of a star player when they perform at a high-profile concert or on TV.
Throughout the 1960s, Guild was prevalent amongst influential players such as Buddy Guy, Muddy Waters and Richie Havens, who opened Woodstock with a three-hour set on his Guild D-40.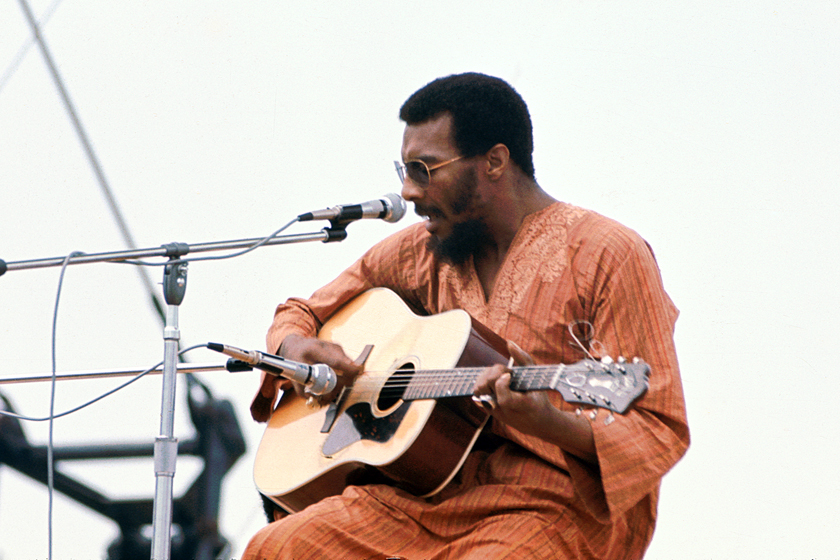 Richie Havens entertains the crowds at Woodstock on August 15, 1969 with a Guild D-40. Photo credit: Ralph Ackerman
The legendary Bonnie Raitt first picked up her Guild Navarre F-50 guitar in the 1960s, and still plays Guild guitars to this day. She has a Jumbo she's played since 1975, and she owns a swag of others to accommodate different tunings when performing live.
Check out Bonnie performing with a Guild acoustic/electric live in concert below:
In the 1970s, Guild designed and produced the first dreadnought guitar featuring a cutaway and the first dreadnought-shaped 12-string. Jimi Hendrix and John Lennon both owned a Guild 12-string (Jimi's was left-handed).
You can watch Tom Petty playing his Guild 12-string during the Grammy Award-winning filmed performance of 'Concert for George (Harrison)', below:
In the 1980s, Guild introduced solid-body guitars and basses with body shapes and features to suit the style of hard rock and heavy metal players.
David Byrne is a long-time Guild fan, and used his solid-body Guild for Talking Heads' ground-breaking "Stop Making Sense" live concert, and his Guild acoustic for his revolutionary 2018 solo "American Utopia" tour and recent collaboration with St Vincent.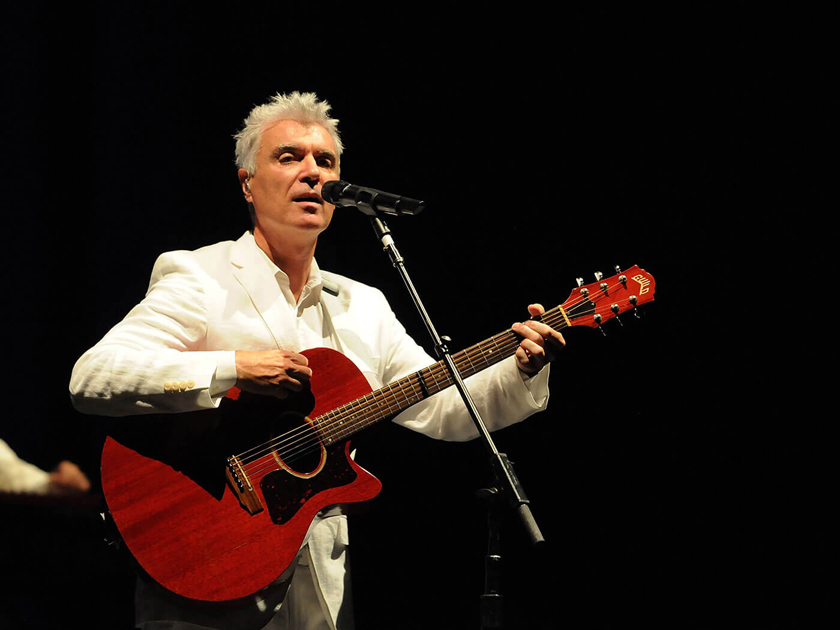 David Byrne is a long-time Guild player, from his Talking Heads days to now. Photo: Jim Dyson.
Into the 1990s and beyond, Guild has been the maker that guitarists turn to for creative instruments.
Kim Thayil from Soundgarden, who played a significant role in shaping the Seattle grunge sound, favours his Guild S-100 for the distance between its tailpiece and bridge, as playing and bending strings behind the bridge is a strong part of his style.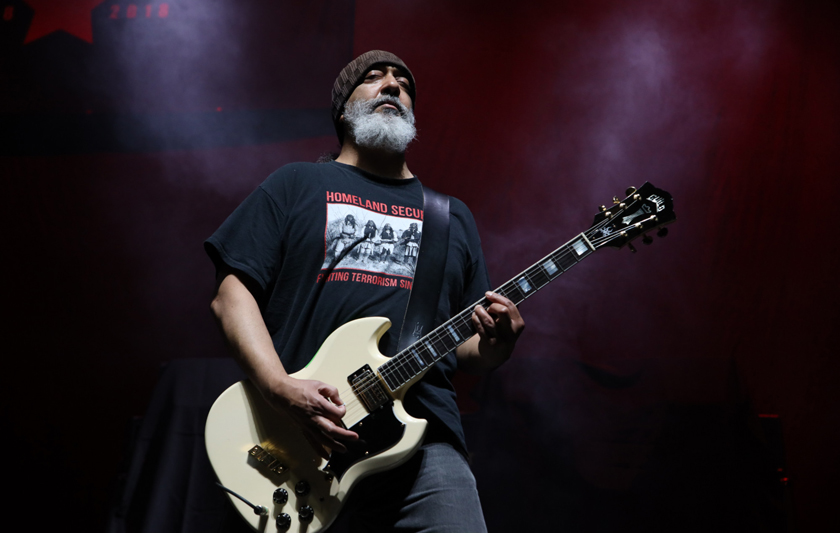 Kim Thayil, former lead guitarist for Soundgarden, has been playing a Guild S-100 electric guitar since his very first recording with his first band, Identity Crisis, back in 1980. Photo: Dave Simpson
Brian May has partnered with Guild twice to make production versions of the legendary, unique home-made "Red Special" guitar he built with his father Harold as a teenager and used almost exclusively throughout Queen's career.
Guild also created Slash's innovative double-neck 'Crossroads' and 'Godzilla' guitars, which both feature a 12-string semi-acoustic on top and a 6-string electric at the bottom, so he can quickly change from acoustic to electric without having to change guitars mid-song.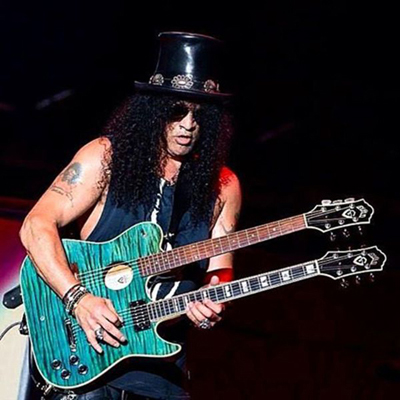 Slash with his Guild custom 'Godzilla' double-neck guitar.
Yet, while innovating and taking guitars into the future, Guild have wisely still kept their original machinery at their factory, which enables them to continue producing their iconic models in the same way they were originally made.
This year, Guild has partnered with Bob Marley's family to re-create his main song-writing guitar, the A-20 Marley (the one Stewy is holding in the picture at the top of this blog). The new Marley signature model is based upon Bob's 1970s A-20 Guild Madeira acoustic guitar, which he kept at his home in Kingston, Jamaica.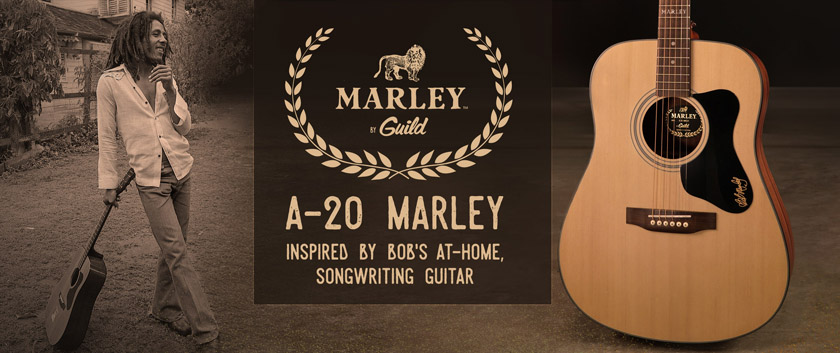 The Guild A-20 Marley acoustic, released in 2022.
Guild has such a long history of designing and building exceptional guitars. Have a look at the Guild Guitars range we have here at Gold Coast Music today. You're more than welcome to come in to the store, have a play, and see, feel and hear for yourself why Guild are so special!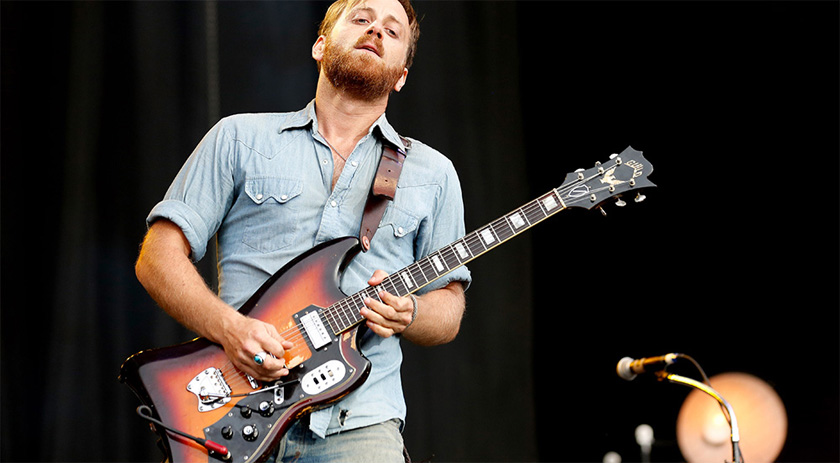 The Black Key's Dan Auerbach plays a vintage 1960s solid body Guild S-200 T-Bird — an obscure model that's now a cult classic. Guild guitars are an excellent investment and original vintage models fetch a lot of money.
---
Leave a comment